Nouvelle version du CD-ROM des écrits publiés
La nouvelle version du CD-ROM de l'oeuvre publiée d'Ellen White est disponible. Compatible pour Windows 98, ME, 2000, XP ou Vista. Achat en ligne possible.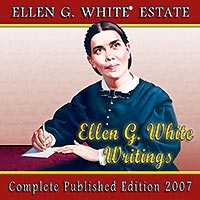 Ellen G. White Writings Complete Published Edition 2007 (PC)
Purchase Online US $99.99
[ABC Web site]
This new CD contains all of Ellen G. White's published works on a single CD-ROM. The program Folio Views is used to browse and search Ellen White's writings. The fully searchable databases are extremely fast and easy to navigate. This CD is an upgrade from the 2005 version and is 100% Microsoft Vista compatible.
See Upgrade Information
Product Features :
385 Ellen G. White titles and 75,000 pages of text in one searchable database
Six-volume Ellen G. White biography
The 4-volume topical Comprehensive Index, with more than 400,000 links to the pages referenced in the entries. Includes the Scripture Index.
5,000 EGW periodical articles
21-volume Manuscript Releases
King James Version Bible with full text search
8 Ellen White Children's Stories (text only)
16 Ellen White reference works
110 White Estate research documents
Noah Webster's 1828 American Dictionary
What's New in the Complete 2007 Edition?
Although there is no new material per se, every part of the 2007 edition has been improved and updated. The latest version of Folio Views 4.7 is utilized, with an improved interface and MS Vista compatibility. The Scripture index has been combined into one searchable infobase with all broken hyperlinks to the EGW books fixed. Webster's 1828 dictionary has been completely reformatted with every Bible reference added and hyperlinked to the KJV Bible. All infobases have new menus added, improved indexing, and enhanced search functionality. Exporting to MS Word 2007 and other current word processers is supported.
System requirements :
Intel Pentium II or better processor
Microsoft Windows 98, ME, 2000, XP, or Vista
64MB or greater of available RAM
300MB of available hard disk space
Color monitor set to 16-bit or higher color
XGA (1024x768) resolution monitor
CD-ROM Drive
NOTE : EGW Complete Edition 2007 CD Installation Service Patch for Folio Views.
The Ellen G. White Writings Complete Published Edition 2007, requires that you have pre-installed on your computer Microsoft's Visual C++ Service Patch 1. Some older computers may not have this service patch installed which will trigger the following error message when running the software :
"This application has failed to start because the application configuration is incorrect. Reinstalling the product may fix this problem."
You do not need to reinstall your EGW software. Just download and install the Visual C++ SP1. Your EGW Complete 2007 software will then run Folio Views normally.
Do not install the patch if your EGW Complete 2007 program starts normally after you have installed the software.